Leatham Music
Classical Piano Recordings
Free downloads




Mozart - Sonata K.330
Beethoven - Waldstein.
Bach · Siloti - Prelude Bm
Liszt - Piano Sonata Bm
Samples & purchase
Two hours of Chopin
2 Ballades, 3 Nocturnes
3 Polonaises, 4 Etudes
6 Waltzes, 6 Preludes
3 Mazurkas, 2 Scherzi
Samples & purchase




Ravel - Mother Goose
Stravinsky - Rite of Spring
Schubert - Waltzes Op.18a
Brahms - Hungarian Dances
Samples & purchase
Flute & Guitar
Phillip Houghton
Richard Charlton
Colin Brumby
Stuart Greenbaum
George Dreyfus
Elena Kats-Chernin
Samples & purchase
Videos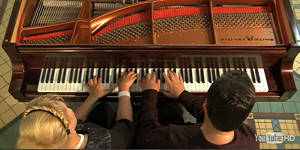 ---

During my search for an instrument with a distinctive voice for my studio I tried new pianos in Sydney and Melbourne and listened to live concerts and recordings.
My home piano is an 1888 Model A Hamburg Steinway, now fully restored, and still capable of the most beautiful music. I had previously owned a Kawai KG-5 that I also enjoyed.
Choosing an instrument
I wanted a piano at least 2.2m (7′2″) in length and was thrilled to hear the diversity of pianos still being built. Even in these economically distracted times there are great craftsmen and engineers working to provide a real choice.
I enjoyed listening to, and often playing, Bechstein, Shigeru, Schimmel and Yamaha. Some smaller models also caught my eye and ear such as Rönisch and August Förster.
Sadly I was unable to hear brands whose names are cherished by those of us who crave a little adventure and are dissatisfied with the blanket of Steinway tone that has settled on this planet. I hope yet to hear a Mason & Hamlin or old Chickering from the USA, a European Blüthner or Bösendorfer Imperial Grand, a Fazioli from Italy, or a French Pleyel.
Why not just buy a Steinway?
I tried Steinway and was impressed with their top model upright. My first music teacher had a Bechstein upright, and playing the new Steinway bought back fond memories of just how good an upright piano can be.
There was nothing particularly wrong with the grands, except the outrageous price, but they sounded, well, like a Steinway. All the major concert halls have Steinways, all black and sounding the same.
The treble is too bright for my liking, the middle-lower register blocks up in thick textured music and they are difficult to play softly, requiring a silly short stick under the lid which muffles and distorts the tone when accompanying singers or working in a chamber group. I went looking for something better.
Australian Timbers
My wife owns a matching trio of violin, viola and cello in Australian Blackwood made by Kevin Williams from Wooragee VIC, not far from here. He had purchased recordings of the Beethoven sonatas by Gerard Willems on a Stuart & Sons piano and I was quite taken with the astonishing wood grain finish of the instrument on the CD cover.
Wayne Stuart kindly sent me a private recording of the Whitely Trio performing the Ravel piano trio. As it happened, my first audition of a Stuart was the third movement Passacaille. I had NEVER heard a sound like this from any piano. The rich sub-bass and fascinating overtones were beyond anything I had heard in my search for the perfect piano.
Concert Audition
I traced the actual instrument, Stuart & Sons No. 23, to the Brisbane Powerhouse where British pianist Mark Gasser was performing Messiaen's Vingt Regards in March 2008. After the life changing experience of hearing that music played by such a gifted musician on this extraordinary piano I purchased it for Leatham Music.
My 2.9m (9′6″) Stuart employs ideas that don't seem to have occurred to many other manufacturers. My favourite features in order of importance when I purchased my Stuart were:
It's not black. It is finished in Australian Red Cedar with a light colour timber under the lid. Much more attractive to look at in a concert.
An additional soft pedal. As on an upright this moves the hammers closer to the strings. This takes the edge off the sound for accompanying — a short short stick on the lid is not required. The keys are simultaneously lowered for a lighter touch. The new pedal and the traditional una corda can be operated at the same time, providing an entirely new world of subtle nuances for the sensitive artist.
A clearer sound as a result of a different stringing arrangement. This piano sings more beautifully than any Steinway I have ever played, in any register. It has an extended sustained tone and cascades of overtones that go up forever. Its most restrained pianissimo can be heard with crystal clarity, but it can also produce colossal volume levels without sacrificing the individual identity of the notes.
97 keys. Wayne also builds 102 and 108 key models. These are very useful in the bass where virtuoso music often jumps up an octave because the composer's original idea didn't quite fit into 88 notes. Bösendorfer has been making 92 and 97 key models for over 100 years! I hope this Australian piano will be an incentive for living composers to try out some fresh ideas.
It was less expensive than a Steinway at the time — I bought a Prius car with the money I saved — yet longer and wider, and built in beautiful timber. I am puzzled by the persistent rumour that Stuart pianos are extravagantly expensive. The standard 97 key models are cheaper than Steinway by a wide margin here in Australia.
Try something new!
There are finely crafted pianos apart from Steinway, each with their own characteristic voice. Concert goers and CD collectors are, in my view, being disadvantaged by the homogenized Steinway sound that permeates the classical music culture.
If you need a new piano, then unleash your sense of adventure and dare to try something different. I am sure you will be delighted with what is available, at least before Steinway sends them all bankrupt with its aggressive push to standardise the world with its 1930s sound. There really are other options.

Visit the Stuart & Sons website
---
Built in Australia by Wayne Stuart, our instrument has been described as being among the finest concert grand pianos in the world by such internationally recognised concert pianists as:
---
Leatham Music was formed in 2006 through a partnership of three friends, all of whom have an interest in promoting classical music in Australia.
Trevor Doddridge – Singer, composer, arranger and sound engineer.
Gregory Kinda – Australian concert pianist.
Videos by Parkway Productions.
Photography by Sue Davis.
11 Coola Court
Table Top NSW 2640
AUSTRALIA
Reg. BN98396214 ABN 11 620 747 138